Press Release: Award-winning "Guard Dog Global Jam" Will Open New Media Film Festival, 5th-Grade Animator & Film Critic Perry Chen to Attend Red Carpet Premiere as One of Creators
Published on: 24th May, 2011
Press Release: Award-winning "Guard Dog Global Jam" Will Open 2011 New Media Film Festival  Animation Short Featuring 5th-Grade Animator & Film Critic Perry Chen
May 3, 2011
For Immediate Release
5th-grade award-winning film critic, animator, entertainment personality Perry Chen is the youngest of 75 animators who created "Guard Dog Global Jam," which will have its Los Angeles Premiere at the New Media Film Festival on May 20, 2011 in Hollywood.  Perry Chen will attend the red carpet premiere and  audience Q&A on May 20 as the film opens the festival.  "Guard Dog Global Jam" is based on Bill Plympton's Oscar-nominated "Guard Dog." It won "Best Experimental Film" at the ASIFA-EAST Animation Festival in May 2011. Other animators who plan to attend the May 20 LA premiere include: Grey Wears, Una Marzorati, Jessica Bayliss, Linda Lee, Ansar Sattar & Larry Loc.
http://newmediafilmfestivaltickets-autohome.eventbrite.com/
May 3, 2011 – In 2010, renowned animation master Bill Plympton decided to remake via the internet his 2005 wildly popular Oscar-nominated animated short, "Guard Dog" about an over-protective pug who imagines every flora and fauna is out to kill his beloved master.  Perry Chen is among over 70 artists from around the world invited to make "Guard Dog Global Jam," each with different levels of expertise, recreating each shot of the film in their own style.  The global team represents animators from Canada, the UK, Scotland, Ireland, France, Sweden, Germany, Italy, Spain, Lithuania, Argentina, the U.S., and beyond.
Plympton is the storyboard artist on "Ingrid Pitt: Beyond the Forest," an animation short about a young Holocaust survivor, in collaboration with Perry Chen, the sole animator of this film, sponsored by Toon Boom Animation, the leading 2D animation software company; and Wacom, the leading computer tablet company for the animation industry.  "Ingrid Pitt: Beyond the Forest" will premiere at Comic-Con in San Diego, July 2011, and has received rave reviews from filmmakers, animators, and the Holocaust education community, watch preview: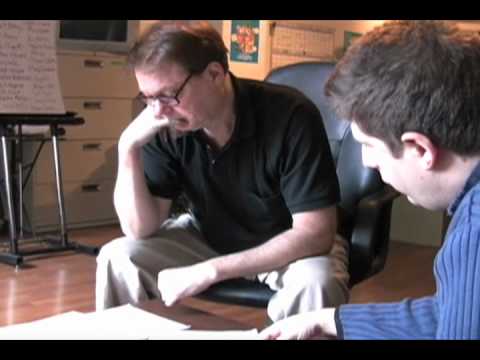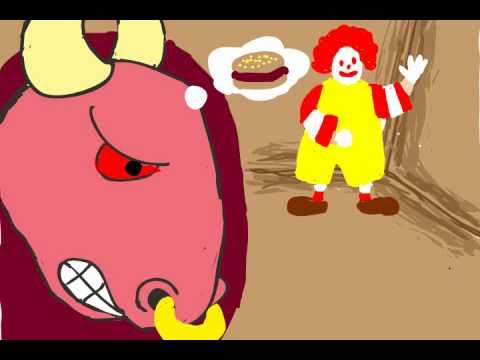 (Perry Chen's scene 41 for "Guard Dog Global Jam")
In November 2010, Perry created scene 41 (bull thinks of hamburger) in "Guard Dog Global Jam" using Toon Boom Studio 5.0 and Wacom Intuos when he was 10 years old.  "I am looking forward to our film's Los Angeles premiere at the New Media Film Festival and meeting fellow jammers in person.   I have learned so much about create animation using Toon Boom software for this film.  It is magical to see things moving on the computer screen from my own creation." said Perry. "I created 35 drawings on my computer for the 7-second scene 41 by watching Bill Plympton's original Guard Dog again and again.  With my mom's help, the help of Toon Boom's wonderful technical support team and other local animators, I was able to finish the scene within one month.  The best part is to make friends with other animators, and finally getting an original drawing by Bill Plympton of my scene 41 in the mail!"
About New Media Film Festival, May 20-21, 2011, Los Angeles:
The annual New Media Film Festival held in Los Angeles during the month of May features the best creative content crossing screens from silver to mobile.  It has been called "Sundance for the Facebook crowd."
http://www.newmediafilmfestival.com
http://newmediafilmfestivaltickets-autohome.eventbrite.com/
(Festival Schedule)
"Guard Dog Global Jam" had its world premiere on March 11, 2011, the opening night of the South by Southwest:
http://www.vimeo.com/20252572 (Guard Dog Global Jam video clip)
"Ingrid Pitt: Beyond The Forest" is a 6-minute animated short told through the eyes of a young Jewish girl, Ingrid Pitt, who survived the Holocaust after being in various concentration camps in Poland with her mother from age 5 to 8.  Pitt eventually became a film and TV star and appeared in the classic World War II film "Where Eagles Dare" with Clint Eastwood.  The film is already accepted to screen at the Burbank International Film Festival September 10-17, 2011.
Perry's Previews is an online resource for kids, teens, parents, educators, and movie lovers of all ages to read and comment on family-friendly movie reviews from a kid's perspective. To date, over 50 reviews are listed on a multi-media platform, including TV, radio, print, and web. In addition, Perry's Previews features Perry's art and animation videos. Reader participation is encouraged through and via Perry's website, Facebook fan page:
(http://www.Facebook.com/PerrysPreviewsFan) and Perry's twitter feed @PerrysPreviews.
About Perry Chen – Gifted with a keen eye from a young age, Perry began writing movie reviews for his website "Perry's Previews" at age 8. Characterized by his starfish rating system, his "Perrific™" favorite movies, and his family-friendly movie choices, Perry is often regarded as one of the great up-and-coming movie critics. The youngest honoree at the recent San Diego Press Club Excellence in Journalism Awards, Perry also serves as the resident movie critic for the Amazing Kids! Magazine (mag.amazing-kids.org), film critic and blogger on Animation World Network, a leading professional animation industry publication; a movie panelist for the San Diego Union Tribune with over a million weekly readers; and the San Diego Entertainer Magazine's youngest columnist and entertainment critic, reviewing films, restaurants, and entertainment events.
Perry has been featured in numerous publications and television interviews, including a recent (October 22, 2010) article in Variety, which spotlighted the top 3 up-and-coming young movie reviewers; and The Young Icons, a nationally-syndicated TV show.  In May 2009, Perry made his national television debut on CBS Evening News with Katie Couric, and in March 2010, he appeared in his first national radio interview on National Public Radio (NPR) with host Liane Hansen. Perry's hobbies outside of film reviews include drawing, reading, folding origami, exploring nature, and gardening. Perry is represented by Rebel Entertainment Partners, a talent agency in Hollywood; and Shamon Freitas Agency in San Diego.
For Perry Chen's movie reviews, film project updates, visit:
http://www.perryspreviews.com
To connect with Perry on his Facebook fan page:
http://www.facebook.com/perryspreviewsfan
For information about Perry Chen, media & business inquiries, contact:
Zhu Shen,
CEO, Perry's Previews
Co-producer, "Ingrid Pitt: Beyond the Forest,"
email: bioforesight at gmail dot com
858-761-7955
Click on pen to
Readers Comments